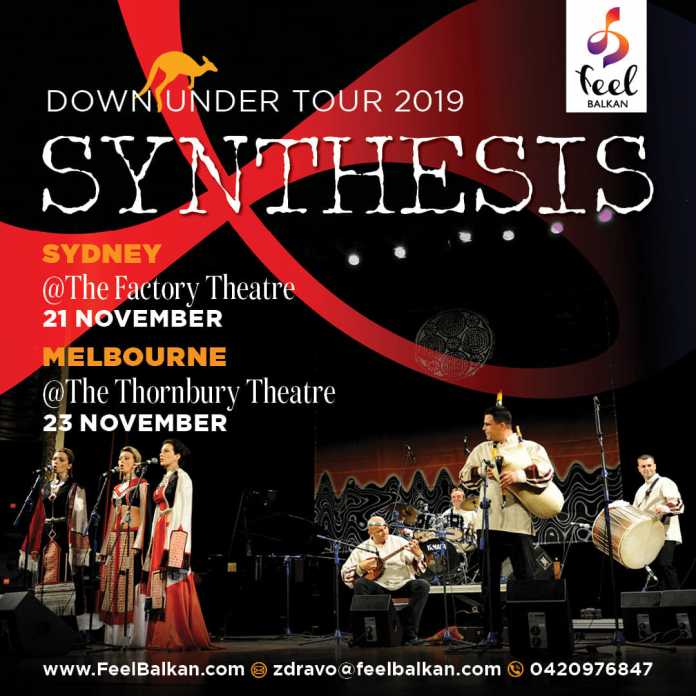 SYNTHESIS combines the roots of Macedonian folk music heritage with contemporary arrangements, using full range of original Balkan instruments, like kaval, gaida, zurla, tapan, tarabuka and tambura.
Powerful and explosive, SYNTHESIS is the most exported Macedonian world music project.
The band was established in 1995 for the purpose of carrying out an in-depth pursuit of the outstanding folk music treasures of Macedonia. The name "Synthesis" was chosen to express the concept of the group, which is to combine traditional sounds with contemporary arrangements to create a musical synthesis. Digging deeply into the roots of Macedonian folk heritage, with a serious concern for the basics of traditional compositions, the group has received high praise for breathing new life in this milieu.
In recognition of the great contribution Synthesis has made for the affirmation of Macedonian music and culture through its numerous concerts all over the world (Japan, Israel, the United States, Italy, France, and many others), in 2006 the Macedonian Chamber of Commerce pronounced the band its Honorary Ambassador of Macedonian Culture.
Synthesis carries on with the treatment of old, forgotten, and sometimes almost never heard songs, which are part of the rich Balkan musical heritage, which, like Macedonian culture, has a long and enduring tradition…