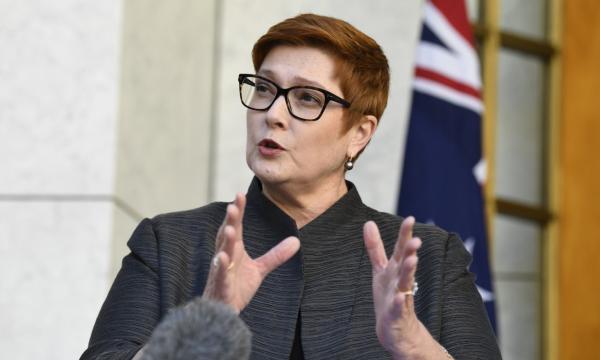 The Hon David Coleman – Federal Member for Banks NSW invited several representatives from the Macedonian community to raise current issues of concern with the Federal Senator for NSW and Minister for Foreign Affairs the Hon Marise Payne in a video conference held on 28 of July 2021.
The facilitator of the meeting was Mr Oliver Dimoski, Macedonian community member of the  NSW Liberal Party.
The following community representatives were present at the meeting:
Mr Joshua Sherman – Australian Macedonian Council of NSW;
Ms Vera Sekulovska – United Macedonian Diaspora Australia;
Mr Done Kocankoski – Macedonian School of Languages Peakhurst;
Dr Tatjana Nedelkoska – Australian-Macedonian Humanitarian Association Sv Arhangel Gavril.
The issues raised at the meeting included:
The bilateral Prespa Agreement (Agreement) signed between Macedonia and Greece, and in particular the impact on the Australian Macedonian community's fundamental rights such as self-determination, identity and language.
The ongoing pressure on the Australian Government to change the description of the Macedonian identity and the Macedonian language in light of the Agreement. It was noted that the large Macedonian community freely chooses to identify as Macedonian with no added descriptors. The Senator firmly stated that "one community cannot dictate to another community on how to name itself" and that Australian law would be applied to protect the rights of all communities equally. She stated she would make further enquiries regarding this issue.
The concern associated with COVID-19 vaccines being mandated across the nation was presented at the meeting. It was acknowledged that this mandate can be in the form of making it legal for States, Territories, large companies, businesses, or individuals to discriminate against and pose restrictions on anyone based on their vaccinated status. Covid certificates, Covid passports, Covid apps or the like, revealing one's personal vaccinated status and restricting an individual's movement or entry goes against all civil rights. Many Macedonians are Orthodox Christians and believe that the vaccines are to be accepted by God's given free will. The Senator stated that the vaccines are not mandatory.
The upcoming Census was mentioned and the release of the Census dictionary 2021. The Senator was asked for references to the "Macedonian nationality", "Macedonian language" and "Macedonian Orthodox" to remain in the Census dictionary 2021. An official response to this request will follow.
Photo courtesy of https://www.marisepayne.com